Posts for: August, 2017
By Terry Dental
August 17, 2017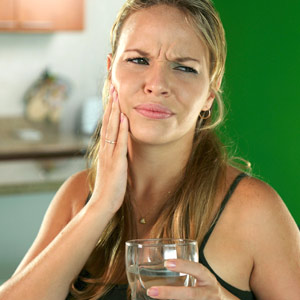 You may be among the one in three Americans who suffer from the pain of tooth sensitivity. Before attempting treatment, though, we must first identify the cause.
Your teeth are made of layers of different organic tissue. The pulp at the center of the tooth contains nerves that transmit pain or pressure sensation to the brain. The pulp is encased by dentin, a layer of tissue composed of tiny tubules that conduct temperature and pressure changes from outside the tooth to the pulp nerves. The hard outer enamel shell shields the dentin from over-stimulation from these sensations.
There are, however, some instances where the dentin may become exposed and cause sensitivity in the tooth. This can occur when the gum tissue recedes and the root of the tooth is exposed to the oral environment. If the root loses its surface coating (referred to as cementum, a cement-like outer layer around the root surfaces) because of over-aggressive brushing (too hard for too long) or advanced periodontal (gum) disease, sensitivity is often the result.
Another instance is enamel erosion. Although made of the hardest substance in the human body, enamel has one major enemy — acid. A high oral acid level brought on by over-consuming acidic foods and beverages or as a symptom of gastric reflux disease dissolves (de-mineralizes) the enamel's mineral content. Brushing just after eating actually contributes to de-mineralization because the enamel is in a softer state. It requires forty-five minutes to an hour for your saliva to neutralize acid and restore minerals to the enamel — you may actually be brushing away enamel with this practice.
Once we know the underlying cause, we can use an appropriate method to reduce sensitivity. One way is to reduce nerve sensitivity in the dentin's tubules or block them altogether. There are several chemical products for both home and dental office application that can reduce sensitivity and encourage enamel re-mineralization (as can the fluoride added to toothpaste). We can also strengthen enamel and provide a mechanical barrier to acid through concentrated fluoride in a varnish applied to tooth and root surfaces. And, life-like restorations like crowns or veneers not only improve the appearance of your teeth, they can also provide coverage for exposed dentin.
If you are experiencing painful sensitivity, make an appointment to visit us. Once we know the source, we can treat the problem and reduce your discomfort.
If you would like more information on tooth sensitivity and how to treat it, please contact us or schedule an appointment for a consultation. You can also learn more about this topic by reading the Dear Doctor magazine article "Treatment of Tooth Sensitivity."
By Terry Dental
August 02, 2017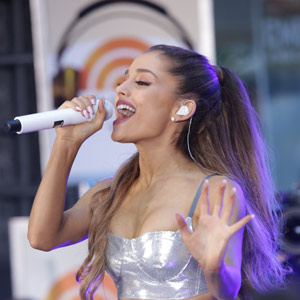 Via a recent Instagram post, pop diva Ariana Grande became the latest young celebrity to publicly acknowledge a dental milestone: having her wisdom teeth removed. The singer of hits such as "Break Free" and "Problem" posted an after-surgery picture of herself (wearing her signature cat-eye eyeliner), with a caption addressed to her teeth: "Peace out, final three wisdom teeth. It's been real."
With the post, Grande joined several other celebs (including Lily Allen, Paris Hilton and Emile Hirsch) who have shared their dental surgery experience with fans. Will "wisdom teeth removal" become a new trending topic on social media? We aren't sure — but we can explain a bit about the procedure, and why many younger adults may need it.
Technically called the "third molars," wisdom teeth usually begin to emerge from the gums between the ages of 17 and 25 — presumably, around the same time that a certain amount of wisdom emerges. Most people have four of these big molars, which are located all the way in the back of the mouth, on the left and right sides of the upper and lower jaws.
But when wisdom teeth begin to appear, there's often a problem: Many people don't have enough space in their jaws to accommodate them. When these molars lack sufficient space to fully erupt (emerge), they are said to be "impacted." Impacted teeth can cause a number of serious problems: These may include pain, an increased potential for bacterial infections, periodontal disease, and even the formation of cysts (pockets of infection below the gum line), which can eventually lead to tooth and bone loss.
In most cases, the best treatment for impacted wisdom teeth is extraction (removal) of the problem teeth. Wisdom tooth extraction is a routine, in-office procedure that is usually performed under local anesthesia or "conscious sedation," a type of anesthesia where the patient remains conscious (able to breathe normally and respond to stimuli), but is free from any pain or distress. Anti-anxiety medications may also be given, especially for those who are apprehensive about dental procedures.
So if you find you need your wisdom teeth extracted, don't be afraid to "Break Free" like Ariana Grande did; whether you post the results on social media is entirely up to you. If you would like more information about wisdom tooth extraction, please call our office to schedule a consultation. You can learn more in the Dear Doctor magazine articles "Wisdom Teeth" and "Removing Wisdom Teeth."