Posts for: December, 2017
By Terry Dental
December 23, 2017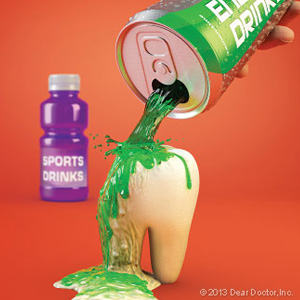 Energy drink makers would have you believe their products are a healthy rehydration choice for athletes while also giving them keener focus and renewed vitality. But before adding them to your sports regimen, you should also consider what effect these beverages could have on your teeth.
Energy drinks are similar in ingredients to sports drinks like Gatorade® and PowerAde®, which mostly consist of water, salts, vitamins, sugars and acids. In addition, energy drinks like Red Bull® and Monster Energy® add caffeine to boost energy.
Besides their sugar content, the main threat from a dental health perspective for both of these drinks is their acidity, which can severely erode tooth enamel. The irreplaceable loss of enamel significantly increases your risk of tooth decay and eventually tooth loss.
The threat of enamel erosion is especially pronounced whenever the mouth's pH level falls below 5.5. The acidity of both sports and energy drinks falls well below this mark. In one experimental study samples of enamel exposed to a number of sports drinks lost an average of 1.5% of mineral content over five days; energy drinks more than doubled that loss at 3.1%.
Given the potential harm these beverages, especially energy drinks, can cause your teeth, you should exercise caution when consuming them. In fact, our best advice is for you to avoid energy drinks altogether, for your overall health as well as your teeth's sake.
Unless you're participating in a physically intense sport, water is your best source for hydration after exertion. Â If you do drink sports beverages, try to limit them to meal times when your saliva is most active to neutralize mouth acid. You can also rinse out your mouth with water after drinking to help further reduce mouth acidity.
As an athlete, you've trained your body to be at its optimum physical peak. Don't let energy or sports drinks take the edge off your health, especially your teeth.
If you would like more information on the effects of sports or energy drinks on dental health, please contact us or schedule an appointment for a consultation. You can also learn more about this topic by reading the Dear Doctor magazine article "Sports and Energy Beverages Bathe Teeth in Erosive Acids."
By Terry Dental
December 08, 2017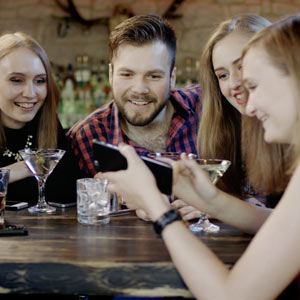 The holidays are a time for getting together with family and friends from near and far. The memories you make at these joyful celebrations are the ones you'll treasure forever, but it can be hard to show good cheer if you're not happy with the way your teeth look. If you're keeping that grin under wraps, we may be able to perk up your smile with some quick and economical in-office treatments.
A professional teeth cleaning is one of the best values in dental care. In just minutes, we can remove the buildup of hardened tartar that can make your teeth look dull and yellowed. Tartar can also lead to tooth decay and gum disease—two kinds of trouble you don't need! While you're in the office, you will also have a thorough exam that could prevent minor issues like small cavities and bleeding gums from becoming more serious dental problems. When you leave, your teeth will look and feel sparkly clean.
If your smile doesn't look as bright as you'd like, ask about teeth whitening treatments. In-office whitening is a safe and effective way to lighten your teeth up to 10 shades in a single visit! If you have more time, you can get similar results from a take-home kit that we can provide—one that's custom-made just for you.
Are chips or cracks making your teeth look less than perfect? Cosmetic bonding could be the answer. Translucent, tooth-colored bonding material can be applied to your teeth to repair minor cracks, chips or spacing irregularities. This in-office procedure usually requires just one visit and can make a dramatic difference in your smile.
So as holiday celebrations draw near, why not give yourself a reason to smile? Contact us or schedule an appointment for a consultation to see if professional teeth cleaning, teeth whitening or cosmetic bonding could give your smile some holiday sparkle! You can also learn more by reading the Dear Doctor magazine article "Important Teeth Whitening Questions Answered."