Posts for: November, 2014
By Terry Dental
November 19, 2014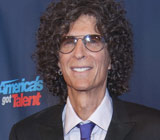 Is there anything that radio and TV personality (and self-proclaimed "King of All Media") Howard Stern doesn't want to talk about in public? Maybe not — but it took a caller's on-air question to get the infamous shock jock to open up about his own dental work.
When he was directly asked if his teeth were capped, Stern said no. "I redid 'em [some time] ago… I had bonding and um… veneers… over my real teeth. But I don't get that 'Hollywood white' though," he said, before adding his uncensored opinion on the subject of proper tooth shades.
As we're sure Stern would be the first to point out, everyone has a right to their own opinion. But we're pleased that Howard brought up an important point about veneers: They are custom-made in a whole range of different shades, from a more 'natural' tooth color to a brilliant white shine. Which one you select depends on what look is right for you — and that's your choice.
In case you aren't familiar with veneers, they are fingernail-thin coverings made of porcelain, which are bonded onto the surfaces of the teeth. This enables them to hide a number of defects — like chips, discoloration, and even small irregularities in spacing. They can also be used to lengthen teeth that seem out of proportion to the gums, lips or other facial features.
Veneers are among the cosmetic dental treatments most favored by Hollywood stars… as well as regular folks who want a dramatic improvement in their smile. Unlike crowns (caps), which generally require extensive reshaping of the tooth, standard veneers require the removal of just fractions of a millimeter of tooth surface. That makes them a minimally invasive method of smile enhancement that can make a big difference in your appearance. In fact, veneers are often a major part of a complete "smile makeover."
Dental veneers are custom made in a laboratory from a mold of your teeth. They are designed to fit your teeth perfectly — and to be just the shade you want. When you come in for a consultation, we will discuss what you like and don't like about your smile, and how we might improve it. Will you opt to get the brilliant "red-carpet" smile you always wished for… or go for a subtle, more natural tooth color? Only you can decide.
Howard Stern's veneers may be the most restrained thing about him… but we're just glad that veneers helped him get the kind of smile he wanted. You can, too. If you would like more information on dental veneers, please contact us or schedule an appointment for a consultation. You can learn more about this topic in the Dear Doctor magazine articles "Porcelain Veneers" and "Porcelain Crowns & Veneers."
By Terry Dental
November 04, 2014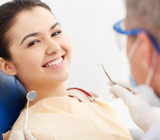 You may have heard the expression: "If you just ignore your teeth, they will go away." That may be true — but by practicing good oral hygiene, more and more people are now able to keep their natural teeth in good condition for their entire life. So we prefer to put a more positive spin on that old saw: "Take care of your teeth and they will take care of you — always." What's the best way to do that? Here are our top five tips:
Brush and floss every day. You knew this was going to be number one, right? Simply put, tooth decay and gum disease are your teeth's number one enemies. Effective brushing and flossing can help control both of these diseases. Using a soft-bristle brush with fluoride toothpaste and getting the floss into the spaces between teeth (and a little under the gum line) are the keys to successful at-home tooth cleaning and plaque removal.
Don't smoke, or use any form of tobacco. Statistically speaking, smokers are about twice as likely to lose their teeth as non-smokers. And "smokeless" tobacco causes tooth discoloration, gum irritation, an increased risk for cavities, and a higher incidence of oral cancers. Of course, smoking also shortens your life expectancy — so do yourself a favor, and quit (or better yet, don't start).
Eat smart for better oral (and general) health. This means avoiding sugary between-meal snacks, staying away from sodas (and so-called "energy" or "sports" drinks), and limiting sweet, sticky candies and other smile-spoiling treats. It also means enjoying a balanced diet that's rich in foods like whole grains, fruits and vegetables. This type of diet incorporates what's best for your whole body — including your teeth.
Wear a mouthguard when playing sports. An active lifestyle has many well-recognized health benefits. But if you enjoy playing basketball, bicycling, skiing or surfing — or any other sport where the possibility of a blow to the face exists — then you should consider a custom-fitted mouthguard an essential part of your gear. Research shows that athletes wearing mouthguards are 60 times less likely to suffer tooth damage in an accident than those who aren't protected — so why take chances with your teeth?
See your dentist regularly. When it comes to keeping your smile sparkling and your mouth healthy, we're your plaque-fighting partners. We'll check you for early signs of gum disease or tooth decay — plus many other potential issues — and treat any problems we find before they become serious. We'll also help you develop healthy habits that will give you the best chance of keeping your teeth in good shape for your whole life.
If you would like to learn more about keeping your teeth healthy for life, please contact us or schedule an appointment for a consultation. For more information, see the Dear Doctor magazine articles "Tooth Decay — The World's Oldest & Most Widespread Disease" and "Dentistry & Oral Health For Children."