Posts for: September, 2014
By Terry Dental
September 24, 2014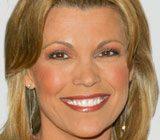 Here's an interesting tidbit of information on Wheel of Fortune host Vanna White: like many people, she grinds her teeth at night. In a detailed interview with Dear Doctor magazine, Vanna explained how she had to replace a filling in a back tooth several times because of her grinding habit. Eventually, she had her dentist make her a nightguard to protect her famous smile.
"I really try to sleep with it every night," Vanna told the magazine. "I try to keep it on my nightstand so when I go to bed, I remember to put it in. Or I will put it by my toothbrush so I can put it in after brushing my teeth at night."
The habit of teeth grinding or clenching is often associated with stress and/or sleep deprivation. It is referred to as "parafunctional" ("para" – outside, "function" – normal), meaning it can generate biting forces well outside the normal range — perhaps 10 times normal. This excessive force can affect many areas of the oral system. Teeth may become worn, chipped or loose; jaw joints or muscles can go into spasm; and some grinders (or "bruxers" as they are also called) may even experience discomfort of the head, ears, neck or back. Many times, a person with a grinding habit does not become aware of it until it is pointed out by a sleep partner or dental professional.
Like Vanna White's dentist, we often recommend a nightguard to those with nocturnal bruxing habits. It is made of a very thin, wear-resistant plastic that fits over the biting surfaces of the upper teeth only. The lower teeth are then free to glide or skate over the guard, which prevents them from biting into the upper teeth. Some people wear their guards during the day if they tend to clench their teeth when under stress.
If you are concerned about teeth grinding or interested in learning more about nightguards, please contact us today to schedule an appointment for a consultation. If you would like to read Dear Doctor's entire interview with Vanna White, please see "Vanna White." Dear Doctor also has more on "Stress & Tooth Habits."
By Terry Dental
September 09, 2014
Chewing gum, so much a part of modern culture, actually has ancient roots — humans have been chewing some form of it for thousands of years. While gum chewing is a benign habit for the most part, it does raise some dental health concerns.
The good news for jaw function is that chewing gum is unlikely to cause any long-term problems for your joints if you respond to your body's warning signals. Our joints, muscles and associated nerves have a built-in mechanism of fatigue and pain signaling to help us avoid overuse. Furthermore, the action of chewing stimulates the production and release of saliva. Among saliva's many beneficial properties is its ability to neutralize acid, which can soften and erode tooth enamel. It also strengthens enamel by restoring some of the calcium and other minerals lost from acid.
That doesn't mean, however, that the physical act of chewing gum isn't without risks. Chewing gum "exercises" your jaw muscles and makes them stronger, so they're able to deliver more force to your teeth. This could lead to future tooth mobility and excessive wear. It's important then that you don't chew gum excessively to avoid this kind of damage to your teeth.
Unfortunately, there's more bad news involving a key ingredient in many brands. Many manufacturers use sugar (sucrose) to sweeten their product, which is a major part of its appeal. Sugar, however, is a prime food source for oral bacteria responsible for tooth decay. The prolonged presence of sugar in the mouth when we chew gum can negate the beneficial effects of increased saliva.
A sweetener called xylitol, though, could be the answer to "having your gum and chewing it too." This alcohol-based sugar (which, by the way, has almost half the calories of table sugar) has the opposite effect on bacteria — rather than becoming a food source it actually inhibits bacterial growth. Studies have even shown that products like chewing gum, mints or candy sweetened with xylitol can contribute significantly to a reduction in dental caries (cavities) caused by decay.
The better news: you don't have to give up chewing gum for the sake of your teeth — just be sure to choose products with dental-friendly ingredients and don't chew excessively. You'll not only reduce the risks of tooth decay and damage, you'll also promote a healthier environment in your mouth.
If you would like more information on chewing gum and its effects on dental health, please contact us or schedule an appointment for a consultation. You can also learn more about this topic by reading the Dear Doctor magazine articles "Chewing Gum" and "Xylitol in Chewing Gum."